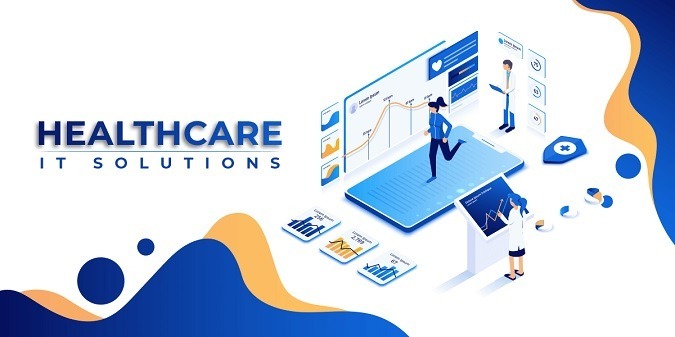 What Medical IT Solutions Does Your Healthcare System Need in 2021 And Beyond?
Information Technology (IT) plays a vital role in the Australian Healthcare Industry. Due to the latest technological development, the demand for Medical IT Solutions is on the rise. Australia is supposed to have one of the most reliable health care systems in the world. But the new challenges and latest advancements make them difficult to provide services and products to their patients.
The COVID-19 pandemic put a spotlight on healthcare while stay-connected with your patient online at home significantly boosted technology use in telehealth practices in Australia. During the pandemic, hospitals, medical clinics, and patients are relying on digital technologies for better service delivery, and Healthcare IT Solutions skyrocketed since 2020 and set the stage for continued growth and modernization in 2021.
Healthcare Industry will continue accelerated digital transformation next year, and the role of Medical IT Support will evolve to optimize the organization's strategy and risk management. IT Professionals also are evolving to include more people with clinical backgrounds, data scientists, and IT security consultants.
The utilization of advanced technology solutions offers many benefits on all levels, beginning from in-patient treatment to population health condition monitoring. Also, Healthcare IT solutions are able to collect and manage certain data automatically as well as other learning from patients and identify probable diseases in order to prevent them.
Top 4 Technology Solutions That Are Emerging Healthcare Industry:
Security of Medical IoT Devices and Data Protection is a worldwide healthcare concern. Cybersecurity become a top priority as cyber-attackers can hack hospitals and damage healthcare systems. As a result, Healthcare Cybersecurity Solutions are in high demand, and that will likely continue in the future.
Cybersecurity assures a fast exchange of data and automates procedures. However, it does not lessen the risk of attacks from cybercriminals. A reliable cybersecurity solution can help you to fight against malware and DDOS attacks, secure medical devices, and systems, and most important keep your patient's data protected.
Cybersecurity in healthcare involves protecting electronic health records, financial information, and medical devices from cyber-attacks and unauthorized access. Due to the Covid-19 pandemic, cyber-attacks are on the rise and the healthcare industry is continuously facing cyber threats that can impact their medical systems and put patient safety at risk.
The use of cloud computing in the healthcare sector is rapidly growing to support essential patient care services. Plus, the Australian Government is also supporting healthcare professionals to use cloud computing as a part of their daily operations. Using managed cloud services helps to improve the productivity of your healthcare practice, quality service delivery, and personalized care.
The implementation of cloud computing in the healthcare industry has streamlined the process of promoting patient care. From migrating existing data to cloud storage, private cloud to hybrid cloud, and office 365 support to cloud email services, an enterprise-class cloud storage solution can match all the requirements of your healthcare business. Also, cloud-based medical records have made it more comfortable for healthcare providers to securely exchange data and share patients' information over the internet.
Disaster Recovery Solutions
During the Covid-19 pandemic, hospitals and healthcare providers are working 24x7x365 and helping their patients. But they are encountering difficulties due to the breakdown of IT infrastructure, cyber-attacks, business disruptions, and lack of technical support. Without the proper plan of IT disaster recovery and backup solution, healthcare organizations risk losing patient trust and reputation as well as money.
Many healthcare providers paused their services as the Covid-19 pandemic hit hard unprecedentedly and surprisingly. This pandemic has provided a valuable lesson that if you don't have a solid IT disaster recovery plan available, then your business is at risk. As a medical practice, you should be proactive before the next calamity strikes.
An effective IT disaster recovery solution can assist you in restoring your practice data and resuming operational processes with the least downtime. As a Disaster Recovery as a Service (DRaaS) provider, a reliable Medical IT Services provider can reduce server downtime, prevent data loss and system malfunctions.
Cloud-Based Phone System in the healthcare sector has made it useful for medical specialists to give services to their patients in the comfort of their homes, offices, or while on the go. A Cloud-Based Medical Phone System eliminates much of the maintenance and hardware linked with a PBX, significantly reducing costs. Although cloud-based phone systems are hosted on external servers, security is not compromised since they use the most advanced security software, hardware, and best practices.
In many instances, cloud phone systems are more reliable than PBX because of advanced hardware and software. These progressions have been the driving forces behind the increasing success of telehealth and telemedicine during the pandemic of COVID 19. With new tactics, techniques, and technologies being used to ensure the best assistance, many positive changes are being witnessed in how the healthcare industry functions today.
Healthcare Phone System also features voice and video calls, instant messaging, web chat, EHR management, and patient portals, as well as letting healthcare facilities, hospitals, physicians, and nurses can connect with patients through a single communication platform over the internet.
Final Verdict:
Today, technological development and progress play an important role in the healthcare field. The rise in digital healthcare solutions allows hospitals, clinics, and other medical facilities to improve the delivery of services and products to their patients. These technology services and medical devices are combined actively with each other. If we perceive from a business viewpoint, these top four Medical IT Solutions help healthcare organizations to improve their profitability exponentially, as well as business progress.
Also Read: