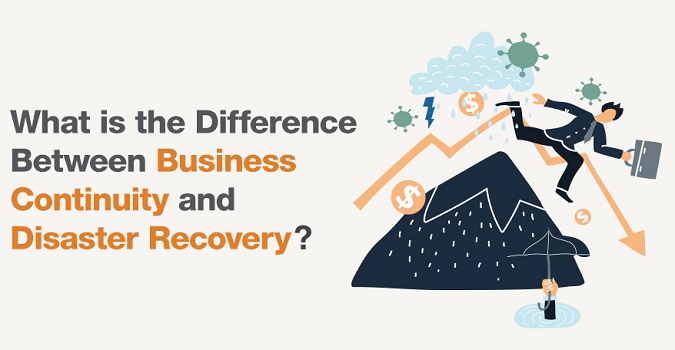 Business Continuity vs Disaster Recovery: 5 Key Differences
How is business continuity different from disaster recovery?
Running healthcare operations smoothly is the priority of every business. If you are planning to start a medical practice in Sydney then you should be prepared for potential disruptions in operations. Business continuity and disaster recovery solutions will help deal with incidents that disrupt daily healthcare operations. The terms appear together so many times, that it's easy to get confused about business continuity vs disaster recovery.
Both are not the same: business continuity plans are made to ensure that important business operations can continue with minimal downtime, while disaster recovery plans (DR plans) evaluate how to restore business operations and important data within a certain time. An important aspect of business leadership is planning for destruction, making strategies and plans that can keep core business operations unchanged even under pressure.
What is Business Continuity?
Business Continuity is responsible for continuing daily operations during any disaster, or crisis. Having a robust Business Continuity Plan in the Healthcare industry will help you to manage emergency situations and provide quality patient care. Moreover, business continuity is vital for every healthcare organization of any size in response to successfully recovering from any disaster. Developing and implementing business continuity and disaster recovery plan can reduce big damages, limit system downtime and maximize productivity.
What is Disaster Recovery?
A disaster recovery plan (DRP) helps businesses to transition from alternative business operations back to normal daily operations. Disaster recovery considers the interruption of business operations "as usual" by events such as power outages, natural disasters, or human error. Rather than merely finding a way to mitigate the deterioration caused by the disaster, disaster recovery concentrates on bringing the hospital back to normal. There are various Best Practices for Data Backup and Disaster Recovery that could save your healthcare practice from big loss.
Business Continuity vs Disaster Recovery
An intimate look at business continuity vs disaster recovery shows some key differences. Eventually, these distinctions highlight the fact that healthcare businesses ought to have plans of both types in place to be adequately prepared for any disaster.
Business continuity concentrates on upholding medical business operations at the time of the disaster, while IT disaster recovery focuses on restoring data access and IT infrastructure.
Business Continuity vs Disaster Recovery processes may include forming more employee safety measures, such as conducting fire drills or buying emergency supplies. Integrating the two allows a hospital to place equal focus on maintaining operations and assuring that employees are secure.
Business continuity and disaster recovery have distinct objectives. Useful business continuity plans determine operational downtime, whereas effective IT disaster recovery plans restrict abnormal or inadequate system function. Only by incorporating the two plans can healthcare be completely ready for disastrous circumstances.
A business continuity plan can assure communication techniques such as phones and network servers resume working in the depth of a crisis. Meanwhile, a disaster recovery strategy helps to assure a healthcare organization's capability to return to full work after a disaster occurs. To put it differently, business continuity concentrates on maintaining the highlight and the hospital open in some capacity, while disaster recovery focuses on getting daily operations back to normal.
Some healthcare businesses may include IT disaster recovery plans as part of their business continuity plans. Disaster recovery is one step in the wider procedure of protecting a medical business against all contingencies.
Identify Business Continuity Risks
With the danger identification method, you need to understand your business's IT infrastructure. Some questions to consider:
What type of information, systems, networks, and software are necessary to maintain our business operations? How do they connect to one another?
What natural disasters could impact these important systems, networks, and software?
What cyber threats risk these systems, networks, and software?
What third-party services or vendors are required to maintain healthcare operations?
What management is in place to prevent cyber threats to our necessary systems, networks, and software?
What resources are in place to prevent critical third-party service providers and vendors from affecting business operations?
What backup systems do we operate? Do we have a data center or other data backup and recovery service off-site?
Do we maintain in-transit encryption for remote access in the event of destruction?
Do we maintain endpoint encryption in the event of a disaster?
Do we have a procedure for emergency administrative authorizations to keep continuous operations?
Incorporate Disaster Recovery Planning
Once you've formed a list of risks for the potential system, network, software, or third-party outages, you must select policies that enable you to recover. Some questions to ask as part of data recovery planning:
Who is responsible for recovery tasks?
Do we have an official, documented command for recovering?
Do we have a specific timeline for recovery?
Have we conceded in the past with our internal timeline for recovery?
What documentation confirms full recovery?
How do we recover business data?
How do we reinstate routine administrative authorizations once the disaster is over?
How do we gauge compliance with our user authorization policy?
How do we measure the effectiveness of incident response?
Do we write all disciplinary actions?
Do we review nonconformities and the steps taken to manage them?
After an event, did we interview people involved in the IT disaster recovery process?
Disaster Recovery Solutions
Disaster Recovery Solutions enable your medical business to quickly resume business-critical workloads after cyberattacks, natural disasters, or server failures. The disaster recovery procedure usually includes a particular physical or cloud site to restore important data. Business continuity and disaster recovery solution require contact throughout the enterprise–and working together as a team. Since business continuity relies on high availability, IT disaster recovery methods depend on RPOs and RTOs.
With Medical IT Services, you can make Business continuity and Disaster recovery solutions focus on risk management, incident response handling, documentation, and recovery procedures. Our software-as-a-service includes the latest features that enable you to assign tasks to those responsible for them and track task completion. Our experts are ready to meet your organization's requirements and help you to avoid the high cost of downtime. Contact us at 1300 660 368 or write an email to sales@medicalit.services
Business Continuity vs Disaster Recovery Related Articles