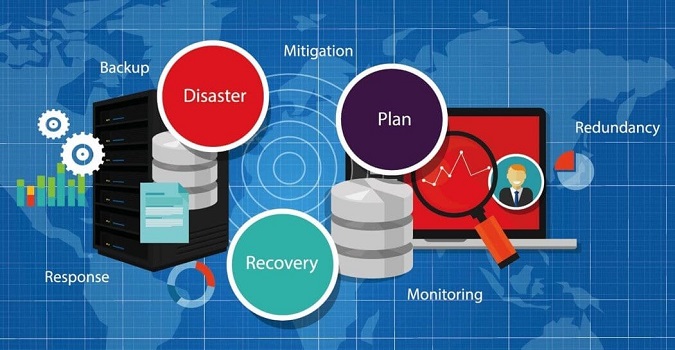 Guide to Data Backup and Disaster Recovery
Best Practices for Data Backup and Disaster Recovery
Running a business smoothly is the priority of every business. If you are planning to start a medical practice in Sydney then you should be prepared for potential disruptions in operations. Data backup and disaster recovery (BDR) help deal with incidents that disrupt daily business operations. You know about how to develop effective business continuity and disaster recovery plan and why it is important for your newly started healthcare practice.
It's required for healthcare providers to plan ahead and put data backup systems into place in case the most destructive happens, well before it occurs. A robust data storage system is completed by complying with an offsite server or separate drives to store your massive amounts of data. Without putting these systems in place, data recovery becomes impossible resulting in the loss of data when the destruction happens.
What is Data Backup and IT Disaster Recovery?
The backup and recovery of data is the procedure of backing up your data in the event of destruction and putting up security systems that enable you to recover data easily. Data backup is the most important part of an IT disaster recovery plan. Let's figure out how data backup is different from disaster recovery.
Disaster Recovery is your capability to pull that data up — clean and ready to go — and restore it without breakdown so you can get back to work.
Data Backup creates a copy of your emails, files, and other data and stores — whether in the cloud, in hardware on your company's premises, or in another place.
Types of Data Backup
While the concept of data backup may be easy, executing a useful and efficient strategy can be challenging. Backup software applications are developed to decrease the complexness associated with performing backup and recovery operations.
Backup is merely a tool to achieve your goal, which is protecting you and your business from the ramifications of data loss. The most common types of data backup are as follows:
Full Backup
This is a basic and comprehensive backup operation that creates a copy of all your data to another media setting such as a disk, tape, or CD. A full copy of all your data is thus created and available on a single media set. It takes longer to complete and needs a lot of storage space, so it is usually employed in combination with either a differential or incremental backup.
Incremental Backup
This operation results in the copying of only that data that has been modified since your last backup operation. A backup application will record and keep track of the time and date on which all backup operations happen. This is the faster way and needs a lower storage media than a full backup solution.
Differential Backup
Similar to the incremental type, differential backups will replicate all changed data from a previous spell but every time they run, they continue to copy all the data changed since the expressed previous full backup.
The Importance of Disaster Recovery (DR)
Disaster Recovery(DR) enables your practice to rapidly support or continue mission-critical functions following the occurrence of a disaster. A disaster can have destructive outcomes on your hospital, especially in today's highly competitive markets. Since it is a high possibility for healthcare companies to die after experiencing substantial data loss, disaster recovery has become an essential part of operations.
Recovery time objective (RTO) and recovery point objective (RPO) are two proportions employed in DR and downtime.
RPO: It refers to the greatest file years that your business must recover from its backup storage to continue normal operations after a disaster. RPO will specify your minimum backup frequency. For instance, if your healthcare organization's RPO is five hours, your system must back up data at least five hours a day.
RTO: It refers to the highest part of the time after a disaster for your organization to recover its files from backup storage and yield to regular operations. In other words, RTO is the maximum downtime amount that your organization can take. If your healthcare organization's RTO is two (2) hours, it cannot bear to be down for longer than that.
Recovery-in-place is one effective technique for restoring data quickly. Preparation for business continuity and disaster recovery needs you to take a complete approach that contains software and hardware, power, networking equipment, connectivity, and testing to assure DR can be attained within your RPO and RTO targets. Though implementing a thorough IT disaster recovery plan is no small task, its potential benefits are consequential.
Guide to Data Backup and Disaster Recovery
If your healthcare business has an IT disaster recovery plan then your business continuity can't hurt and you can run daily operations without any hassle. To run operations smoothly, you need to understand the tiers of disaster recovery to build effective DR plans.
Avoid Costly Downtime
Downtime occurs when apps and data become inaccessible to end-users (e.g., because of a natural disaster or malicious activity). When you suffer downtime, the results echo throughout the entire company:
Employees cannot do their duties.
Transactions do not go through.
Customers turn to contenders.
Business revenue comes to a standstill.
The average price of downtime is increasing each year by 35%.
Disaster recovery planning is the way for preventing elevated amounts of unexpected downtime. The capability to change operations to a secondary group of IT resources means you can keep services online during a disaster and avoid downtime even if the primary data center is down.
Control Damage Due To Crisis
Unexpected circumstances always cause damage, but data backup and disaster recovery help a business to control the time of the destruction. Here are some examples:
If you fire any employee and that angry employee decides to delete important data files out of spite, a backup helps you to restore any deleted data.
A backup failover site in a different area can keep you functioning if the main data center is in the midst of a region-wide power outage.
If you lose some of your infrastructures, you can restore all data on lost devices from a cloud backup.
A Disaster recovery plan to carry all supplies off the floor and into a windowless room can save the whole IT setup in a hurricane scenario.
When an intruder makes their way into your network, a disaster recovery plan provides a quick response that limits sideways movement and controls the blast radius.
If you suffer a ransomware attack, a robust DR plan assists prevent the attacker from extending to new devices, while backups provide you can restore encrypted data.
Protect Your Brand's Reputation
Being recognized as a business that lost customer data in the past does no vogues to your business. Once you lose the trust of customers, they start to discourage others from using your healthcare services.
Dissatisfied customers also leave negative feedback about your business online, providing poor ratings that can slow customer acquisition for years. Ultimately, you lose customers and revenue because of no backup and disaster recovery solutions.
Proactive Approach to Cybersecurity
While you should take a proactive approach to cybersecurity with strong firewalls and intrusion detection systems, it is inadvisable to assume your business is secure. Crafting a response plan for a prosperous cyberattack is as crucial as setting up prevention measures.
Proper DR planning assures that your team should know how to respond:
Rapidly determine threat types.
Respond quickly and precisely to each type of threat.
Follow through on the procedure of removing the attacker from the business network.
Backups mitigate data loss and assure you can recover from a cyberattack without long-term problems.
Apply HIPAA and PCI Regulations
For business continuity and disaster recovery, healthcare businesses must have an always-on infrastructure to comply with government regulations. Healthcare organization does not get an exception for regulations such as HIPAA and PCI when disaster hits. You can easily comply with backup and Disaster recovery plans to reduce the compliance burden.
Data backups assure you do not lose important data due to a data breach.
You can tailor your disaster recovery plan to assure an emergency response.
Disaster recovery planning needs continuous reviewing of the IT network to stay updated with recent threats.
Data Backup and Recovery Software
Database Management System (DBMS) intends to be a software package that helps you manage databases reliably and effectively, which enables you to organize your data. DBMS has many benefits, like, as it enables you to store, manage, and recover data from databases.
The Bottom Line
Disaster recovery and backup recovery are not mutually complete. Best practices will include both approaches. You need to place a consistent data backup and disaster recovery plan in place to secure your business data from unexpected disasters. Medical IT. Services specialized in providing disaster recovery solutions for the healthcare industry are fully compliant with HIPPA and PCI DSS.
Our experts are ready to meet your organization's requirements and help you to avoid the high cost of downtime. Contact us at 1300 660 368 or write an email to sales@medicalit.services
Related articles about disaster recovery: