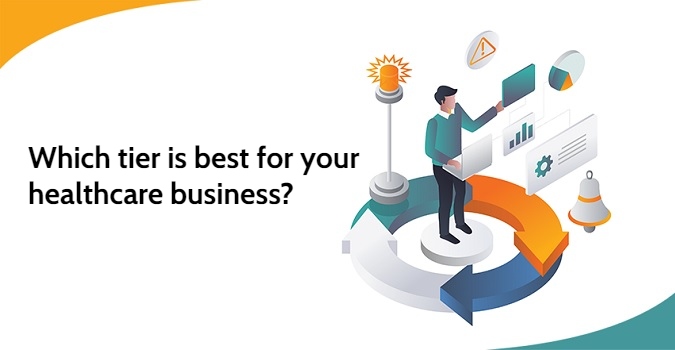 7 Tiers of IT Disaster Recovery
Disasters can happen to any business, anytime. Especially for the healthcare industry, an IT disaster is a nightmare, because it cannot only ruin the healthcare management system but also the damages hospital's reputation and compromise patients' data. There are many healthcare organizations are relying on third-party IT vendor support to manage their disaster recovery. If your healthcare company has an IT disaster recovery plan then your business continuity can't hurt and you can run daily operations without any hassle. To run operations smoothly, you need to understand the tiers of disaster recovery to build effective DR plans. These important disaster recovery tiers serve as a backbone for your business growth.
What is Disaster Recovery?
Disaster Recovery is an organization's process of regaining access and functionality to its IT infrastructure after an event like a natural disaster, or cyber-attack happens. There are different tiers of disaster recovery (DR) methods that can be part of a disaster recovery plan. DR is one important part of business continuity. During the late 1980s, the SHARE Technical Steering Committee described tiers of disaster recovery. They developed a model, that used tiers 0 to 6. Later, the seventh tier was included in the model. The seven tiers of disaster recovery determine service levels and associated risks.
7 Tiers of Disaster Recovery
There are seven tiers of disaster recovery. Medical organizations must back up data, databases, applications, and hardware to multiple secure locations for subsequent access. In a tiered IT disaster recovery plan, each tier defines the recoverability of specific types of data storage resources based on the recovery method and recovery time. The more heightened the tier, the greater the recovery resources cost.
Level 0: No off-site data
At level 0, recovery might be not possible at all. The organization has no business continuity plan – neither stored data, documentation, backup or emergency plan. Accordingly, the time required for recovery is undefined.
Tier 1: Data backups without hot site
Healthcare organizations with Tier 1 continuity back up their data at specific respite and then physically deliver those backups to an offsite facility for storing securely. Depending on the frequency of backup making, the business should be prepared for days or weeks of data lost. At this tier, the backups are securely protected off-site, but there is no system for data recovery.
Tier 2: Data Backup with Hot Site
Tier 2 defines an organization that backups up data frequently. They merge an off-site and "hot site" to restore systems quickly from backups when a disaster happens. The data recovery time in Tier 2 is more predictable but will still consequence in the need to remake hours or days' worth of data.
Tier 3: Electronic Vaulting
Tier 3 includes the main components of Tier 2, like off-site backups, an IT disaster recovery plan, and a "hot site." However, Tier 3 augments backup by electronically vaulted data. The recovery time is approx. 24 hours.
Tier 4: Point-in-time copies
Tier 4 is used by businesses that need greater data currency and quick recovery than the users of the low-level tiers. It incorporates greater disk-based solutions. Data loss of several hours is still possible, but it is easier to create point-in-time copies with higher frequency.
Tier 5: Transaction integrity
Healthcare organizations that use Tier 5 require data consistency between the data production center and recovery centers. There is smaller or no data loss in these solutions.
Tier 6: Zero or near-zero data loss
Tier 6 exemplifies the highest tiers of data currency – with minor or no tolerance for data loss. Data restoration needs are a high priority. It often requires automated tape or disk mirroring solutions.
Tier 7: Highly automated, business-integrated solution
Tier 7, the top tier, includes all the aspects employ for Tier 6 with integrated automation. Automated applications restoration brings a prompt restoration of systems.
Disaster Recovery as a Service (DRaaS)
Disaster Recovery-as-a-Service (DRaaS) is a cloud-based solution that helps an organization to take backup of all data and files on the cloud platform which is provided by a third-party vendor. A reputable DRaaS provider will quickly recover the entire IT system as well as improve the overall performance in an event of a disaster.
Furthermore, Disaster recovery-as-a-service (DRaaS) will protect that data if the network fails, cyber-attacks, or any physical damages. A DRaaS solution is key to making sure that patient information and records are secured and can't be stolen or damaged in case of any types of hardware damage. If your healthcare business is struggling due to server failure or malicious attacks, do not hesitate to contact our IT support specialist. As, we provide IT disaster recovery services that allow healthcare practices to regain access, take action to reduce damage, and resume operations as quickly as possible.
Also Read: