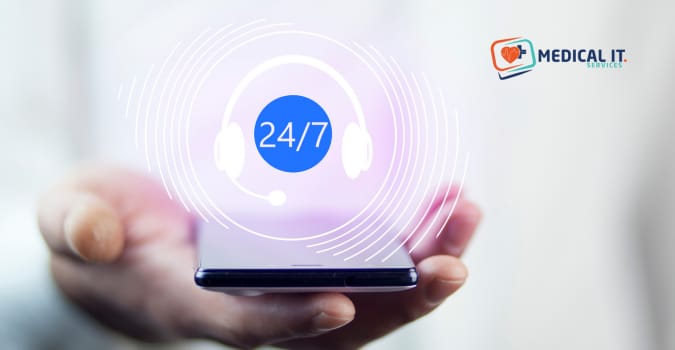 Get the Most Out of Your 24/7 IT Support for Your Healthcare Practice
In the healthcare industry, technology is essential for providing quality care. From managing electronic health records to medical devices, and optimizing IT infrastructure to cloud computing, the demands on healthcare IT are continuously increasing. But there are many challenges in utilizing modern technology, such as protecting medical devices from malware attacks or choosing the right IT services provider in Australia. In this article, we will explore how to get the most out of your 24/7 IT support and the benefits it can bring to your healthcare practice.
What is 24/7 IT Support for Healthcare Practice?
In the context of healthcare, 24/7 IT support refers to continuous technical assistance and services provided to hospitals, clinics, or medical offices, to meet their specific IT needs and solve complex issues at any time of the day or night, seven days a week. This can include everything from hardware upgrades and software updates, network management to server support, and security issues.
How 24/7 IT Support Works?
24/7 IT support for healthcare practice typically involves a team of IT professionals who are available around the clock to provide technical assistance and support with all types of IT issues. Here's how 24/7 IT support works:
Monitoring and Alerts: The 24/7 IT support team employs advanced monitoring tools and software to keep a constant eye on the client's IT systems.
Remote Troubleshooting: When an alert is triggered or when a user reports a problem, the support team accesses the affected systems remotely and solves the issues.
Help Desk Support: The user can reach out to the support team via phone, email, chat, or a ticketing system. The IT help desk provides step-by-step instructions to escalate complex issues.
Proactive Maintenance: By identifying potential problems early on, the IT support team take a proactive approach and prevent the major error from arising, ensuring a stable and secure IT environment.
Escalation Procedures: In cases where remote resolution or initial support team intervention is not possible, the support team follows a clearly defined escalation process. This ensures that issues are given high priority, resulting in faster resolutions.
Continual Improvement: To offer the best service possible, 24/7 IT support teams continually analyze their performance and look for opportunities to improve.
Advantages of 24/7 IT Support for Healthcare Practice
Having 24/7 IT support for healthcare practice offers several benefits, including:
Reduced Downtime: With 24/7 IT support, healthcare practices can quickly resolve any IT-related issues, minimizing downtime. This ensures that patients receive the care they need without any interruptions.
Improved Security: IT support teams can monitor the healthcare practice's IT infrastructure around the clock, identifying and addressing any security threats promptly. This action ensures the protection of patient data at all times.
Increased Efficiency: With 24/7 IT Support, healthcare practices can focus on providing patient care without worrying about IT-related issues. This increases efficiency and improves patient outcomes.
Cost Savings: By outsourcing IT support, healthcare practices can save on the cost of hiring and maintaining an in-house IT team. This ensures that they can focus on providing quality patient care while keeping costs low.
Compliance with Regulations: Healthcare practices must comply with strict data protection regulations, such as HIPAA. 24/7 IT support helps enforce security measures to meet these compliance standards.
Conclusion:
24/7 IT support is vital for modern healthcare organizations, enabling them to maintain efficient and secure IT operations at all times. By constantly monitoring, remotely troubleshooting, providing help desk assistance, performing proactive maintenance, and following escalation procedures, IT support providers ensure prompt issue resolution. This minimizes downtime and optimizes productivity. This proactive and responsive approach allows businesses to focus on their core operations while leaving their IT concerns in the capable hands of dedicated experts.
Get Expert IT Support Tailored for Your Healthcare Facility
By partnering with MedicalIT.Services, your healthcare facility can benefit from 24/7 IT Support Services that are tailored to your specific needs. We can help you implement electronic health records (EHRs), medical software installation, managed cloud solutions, and other healthcare IT management systems. Contact us today for a free IT consultation and take the first step towards a more efficient, secure, and future-ready healthcare facility.
Also Read:
IT Support Cost – What You Need to Know for Your Medical Practice Needs?