The Future of Telehealth: All you need to know
Telehealth has played important role in fighting the spread of COVID-19 in Australia and almost every patient and doctor have had to experience its transformative potential. The use of telehealth services in Australia is quickly increasing add offering a vast range of medical services remotely which ensures the robust future of telemedicine and telehealth. In this post, you will learn how telehealth is helping healthcare providers and patients and what is future of telehealth look like.
What is Telehealth?
Telehealth means the delivery of healthcare services, including medical care through telecommunications and digital communication technologies (virtually). Telehealth helps to remotely diagnose and provide treatment to patients using telecommunications technology. Telemedicine enables effective communication between the doctor and patients while helping the doctor collect relevant health and lifestyle information about the patient. It helps doctors in counseling, diagnosis, and treatment like never before.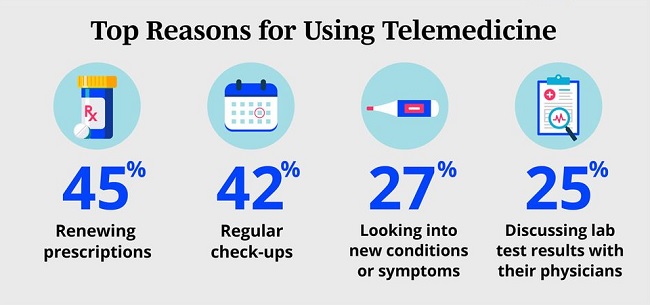 Purpose and Benefits of Telehealth
The core purpose of tele-health is to make health care easier for people living in remote communities or to provide medical care for those with an infectious disease such as COVID-19 so other people can save from such infectious diseases. Following are the reasons why the future of telehealth is sustainable and why you should incorporate telehealth into your medical practice.
The adoption of telehealth solutions can increase patient numbers. Through telehealth, you can easily enlarge your patient base by providing feasible services and also provide services to rural areas.
Improved Patient Flexibility
Telehealth reduced transportation and waiting times. Collectively, on-demand remote visits can enable your patients to balance work, life, and healthcare – even in emergencies.
Improved Patient Adherence
Feasible access to doctors is key for patient adherence, treatment success, and clinic publicity. Proven elements include close monitoring, short waiting periods, and patient satisfaction.
Authorizes for Easy Patient Follow-Up
Telehealth services can create a sort of touchpoint in a personalized and case-specific way, ranging from a summary of patient consultations to implantable cardiac monitors.
Increased Patient Outcomes
Tele-health can decrease the infection risk and allow healthcare units to assess their patients potentially better which improves patient outcomes.
Telehealth software can decrease general expenditures like front desk support, space for examination rooms, and the use of material can also be reduced.
How Telehealth Is Shaping The Future Of Healthcare?
The pandemic has laid bare the need for a revolution in the healthcare industry and telehealth solutions were adept in bridging the gap. Although the future of tele-health and tele-medicine is solid and always here to remain, telehealth programs require to manage the potential limitations of telehealth to deliver the best health outcomes.
The future of telehealth requires healthcare professionals to keep driving for technologies that ensure confidential, HIPAA-protected communication. Moreover, activists of telehealth may require support for funding and policies that allow vulnerable groups to access tele-health services (e.g., expanding internet networks in rural areas). Indeed, many healthcare organizations in Australia are already using AI to support better outcomes for patients. Australian patients also recognize the importance of obtaining AI-based telehealth solutions in their healthcare experiences.
The deadly bacteria and viruses are more prominent in hospitals, though them bringing the greatest care to maintain neatness and hygiene. We can see multiple technologically advanced checkpoints in healthcare places. From the registration process to examinations to diagnostic procedures, we notice a change in how medical services are delivered.
Decentralized care to be the future
Telemedicine solutions are being developed away from the regularly major settings. This is being completed to improve community-based offerings that are cost-efficient too. Decentralized offerings via tele-health and telemedicine software solutions also enable doctors to see various patients globally, offering them feasible and effective care.
Remote monitoring will become normal practice
With more people being comfortable using their smartphones, remote visits can assist doctors in delivering the requisite diagnosis to the patient right from the comfort of their places. With remote monitoring, doctors can offer real-time treatment and communicate with their patients more effectively including from post-discharge instructions to health coaching and counseling to appointment reminders through text, SMS, mobile alerts, or IVR.
Telehealth Software For Healthcare
Telehealth is shaping the future of healthcare, the impulsive wave of the pandemic and the restrictions that were reached with it expedited the world into looking for more sustainable telehealth software solutions. Leverage the tele health practices in your healthcare organization and allow your customer to adhere to you for the long term. AI-powered solutions have made small steps toward addressing major problems. So, without skipping out on the technology, reach out to Medical IT. Services for Telemedicine solutions for healthcare to ease your daily operations and stand ahead of your competition.
Related Articles: