Best Medical Practice Management Software for Healthcare Providers
Top Three Medical Software for Australian Healthcare Industry
In recent years, information technology has played a major role in the up-gradation of the healthcare industry. The results are getting better over time, leading to fast cure while decreasing health risk. Among all other solutions, medical practice management software is the main utility for any health care service provider.
Here, we are introducing the best medical software that can revolutionize the operational process of any healthcare organization. With hands-on experience in setup, installation, and customization of various medical software, we are trying to explore their features and exceptional benefits.
What Is Healthcare Practice Management Software?
Healthcare practice management software is developed to facilitate medical clinics, hospitals and practices to deliver personalized care using a customizable all-in-one platform. There are various types of medical software available in the market that possess different features, user interface, and functionality. A practice management software allows you to perform daily activities such as patient care, appointment bookings, payroll and billing. Meanwhile, you can also perform other management related operations.
Best Medical Practice Management Software
Here, we are describing the most popular medical practice management software that can help you to perform daily healthcare business activities more efficiently.
1- Genie Medical Software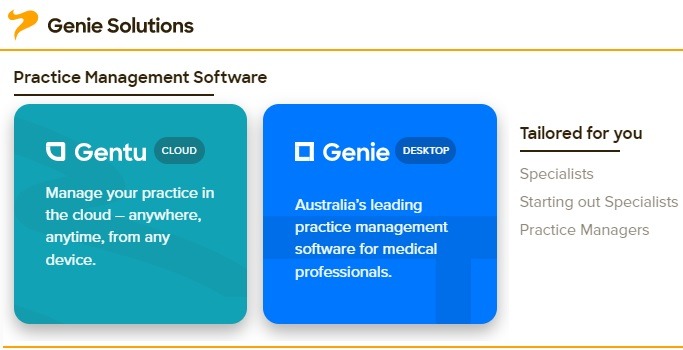 Genie Solutions is a well-reputed medical software development company in Australia that offers various products for efficient medical practices. Following are the key features and benefits of getting Genie software support:
Genie offers both cloud-based and desktop software that will integrate appointments, billings, and other clinical functions.
It allows you to create medical accounts according to the specifications of different types of users.
The user can register their patients online and set an appointment according to the clinic schedule.
You can handle the patient payments and bookings online while setting the workflow by using the Genie Medical Software features.
Genie Solutions also provide customer support for smooth software operations and complete training programs for a clear understanding.
2- Medical Director Software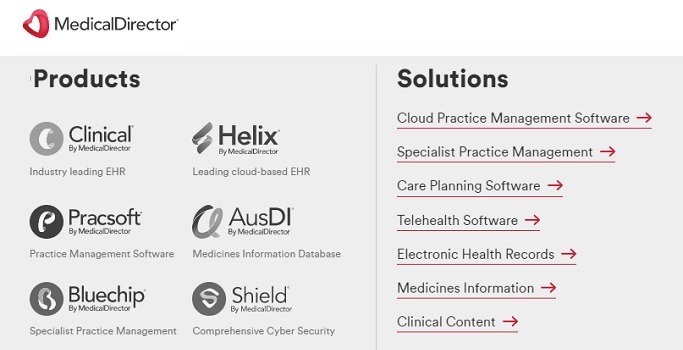 Medical Director is one the best clinical software that provides end-to-end data security and advanced technology solutions for modern practices. Save time and reduce extra cost with this innovative software platform with amazing features:
Server-less infrastructure, automatic upgrades and simple licensing.
It offers both cloud-based and desktop versions while having automatic upgrades and secure integration with the system data.
Meanwhile, its information database allows you to access the data of all drugs and medicine content.
Easy to use interface designed to simplify administrative workflows and optimize practice efficiency.
Apart from all these advantages, Medical Director offers regular customer support and training to provide you with a complete package.
3- BP – Best Practice Software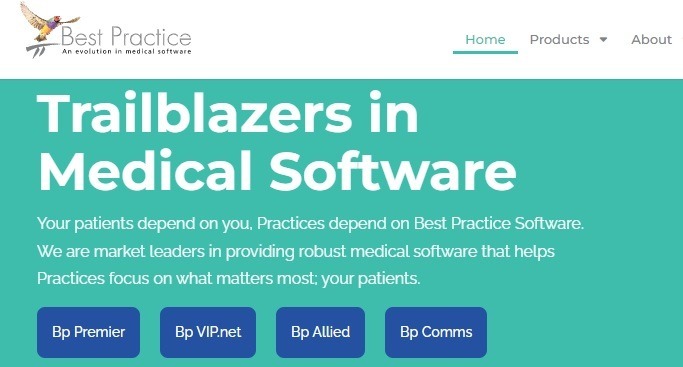 The Best Practice Software is a leading vendor in providing robust medical software that helps practices focus on delivering better patient care. The BP Software is designed by a doctor with deep knowledge of general practices operational tasks.
It offers various medical practice management software types according to different organizations' sizes.
You can have their licensing model at an affordable cost offering the best features to help you with daily operations.
A different set of tools will allow you to deal with patients' data, leading to efficient decision-making.
You can easily monitor the performance of your operations through clinical tools and decision-making support.
BP Software is easy to use and has an effective multi-view layout of the appointment book.
Automation of manual activities, increased accuracy, and trackable records available from various sites.
Benefits of Medical Practice Management Software
There is no doubt that medical practice management software can play a vital role in the daily operations of any medical facility. Following are the key benefits that you can have by installing medical software:
Easy Access to Health Records
You can easily access your patient's health record as practice management software maintains the data online. It allows you to search EHR (electronic Health Records) documents while streamlining the operations.
Process Efficiency
The software reduces the manual paperwork and enables you to access the records directly with calculated information. It also helps you maintain the patients' digital reports and their insurance information.
Increase Accuracy
A practice management system is designed in a way to detect any mistakes after taking the updated information from the users. This feature is based on the integration of the system with the billing process.
Saves Time and Reduce Cost
The utilization of medical software in any healthcare facility saves both time and cost. The manual operations can be processed in a matter of clicks with accuracy. Meanwhile, it also saves the cost that usually gets spent on different resources to complete those operations.
Find the best medical software with support services
The development of medical software increases in complexity due to latest advancements and unique features. It can be difficult to choose a suitable software platform that aligns with your practice needs. At MedicalIT.Services, we're experts in helping you find the best medical software for your practice based on patient load, deployment, and specialty. Contact our helpdesk support to select the right software vendor for your clinic.
Also Read: