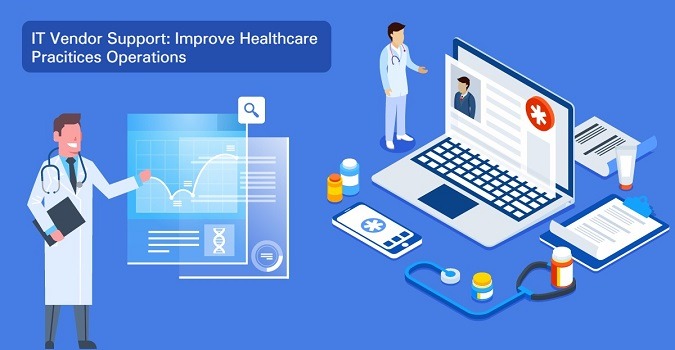 How does IT vendor support keep your VMS software in good health?
Healthcare information technology is suggested to use innovative and contemporary technology systems and methods to maintain health-related information. Traditionally, knowledge and the data of medical practice were performed through paper records. Still, gradually, technology integration became necessary to keep up with speed and streamline healthcare settings. That's why it won't be wrong to say medical practices require vendor management services. Due to accelerated progress in the Australian healthcare industry, IT vendor support providers also increased.
What is IT Vendor Support?
IT vendor support enables businesses to achieve and maintain good associations with their contractors and suppliers. The actions done in the IT vendor management are to discover the appropriate software products for maintaining healthcare information systems.
The IT Vendor gives support services, including performance monitoring, software installation, fixing errors, and diagnosis issues.
Hospitals and healthcare systems depend on so many vendors every day to provide quality assistance to achieve the best patient outcomes. These services can vary from IT, transportation, hospitality, security, transcription, patient care, laundry, medical, clinical, etc. But maintaining all vendors at the same time is pretty challenging for healthcare practices, mainly due to the coronavirus pandemics. In this state, Vendor Management System (VMS) can help Healthcare Companies maintain and control the budget, deliver patient care, and reduce risk.
Let's find out about some of the best VMS software features that can be kept in good health with the help of IT vendor support. But before that, let's discover what is Vendor Management System (VMS) is first:
Vendor Management System (VMS)
A VMS is a web-based software application that enable you to organize your company's entire workforce hiring process in simple-to-use solution. A VMS provides one single point of contact where every vendor participated in a process to discuss feasibility, obstacles and the task at hand which is vital to getting a job done correctly.
VMS plays a vital role in investigating any risks your organization may be taking on by working with trusted vendors. Many IT vendor management provides this solution by requiring any contractor you're giving consideration to working with to finish detailed questionnaires that find any possible issues with the vendor's services.
How Can IT Vendor Support Keep Your VMS Software in Good Health?
The following are the certain ways IT vendor support can help you to keep your VMS software in a good position.
The assistance of IT vendor support aids in a risk evaluation process, providing a quantitative approach to include both inherent and residual risk. Vendor management system software supports quantifying the force and possibility of potential events in the setting of what they suggest to operate for an institution, reputation, financials, and other vital considerations.
Reports of the vendors are not writings gathered for appearance's sake. They require to be carefully examined as part of an institution's vendor management expected diligence efforts. They support an institution to understand if a vendor is a trustworthy partner. Vendor management software requires to give tools that will highlight notable changes so that an institution has the knowledge it needs to make decisions, whether it's questioning the quality of its vendors' cybersecurity and incident acknowledgment policies or its financial condition.
Ongoing Monitoring and Risk Assessment
While vendor reports are necessary, a lot can improve between the months or years information is provided. Whether it's reports given by lawsuits or vendors, media reports, or other news to show a vendor is encountering challenges, a vendor management software solution requires to provide ongoing monitoring to assure your institution's expected diligence efforts are notified. These extra efforts should show regulators that your institution is proactively monitoring vendors. It should also help you interpret this information in risk assessments, giving you insights into changing vendor risk to adequately reduce those risks using controls.
Computerization Support, Especially for Payroll
It's no mystery that accounts payable is one of the most labor and resource-intensive departments for an organization. A VMS that adds computerization can take hours worked in real-time and automatically accept and process invoices according to the company's own different rules. These powerful VMS features help streamline payment processes, which is considered effective since the workforce includes various staff members and vendor partners serving together.
Effective Vendor Management Skills
A VMS platform allows strong characteristics for maintaining partnerships with vendors. This includes powerful skills like:
Automatic order processing and vendor tier-organized order distribution.
Real-time auditing of vendors and staff related to job orders.
Ability to process singular, unit-level invoices.
Access to standard and customizable reports outlining vendor performance and contractual obligations.
Skills like these make it simple for healthcare staffing managers to get the in-depth knowledge they require to correctly and efficiently supervise staff and vendor partnerships.
Final Words
An automated vendor management solution delivers the best of cutting-edge appropriation technology into the process. We at Medical IT Support Company, reduce the gap between different procurement functions, taking things up a notch, and streamlining buying as a whole. We help the Australian healthcare sector to keep healthy connections with their hardware suppliers, software vendors, and medical contractors. If you are still unsure, request to schedule a free IT consultation to understand how well it can approach your procurement team's vendor management requirements.
Also Read: