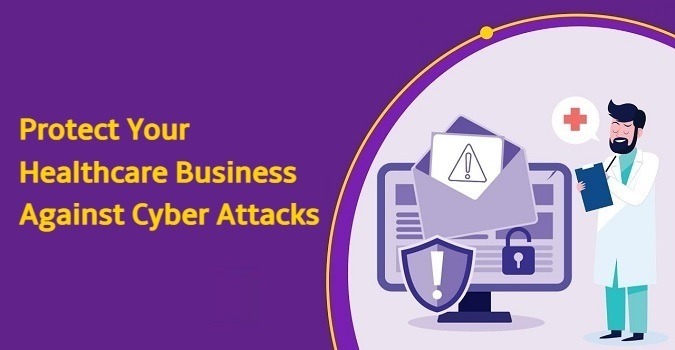 Protect Your Healthcare Business Against Cyber Attacks
In the digital world, cybersecurity is important for healthcare business to protect medical data and patient's health records. Many healthcare organizations have various types of specialized information systems such as EHR systems, e-prescribing systems, medical software, practice management systems, clinical decision, radiology information, and online booking systems. According to the study and worldwide survey, over 40% of cyber attacks happened in the Australian healthcare sector. NCA News Wire said that a private hospital located in New South Wales is still reeling from a "cyber incident" and more than 50,000 people's sensitive data has been leaked. 
During COVID-19, the new cyber security challenges occurred for healthcare businesses as they employ the work from home method to run daily operations. Because cyber criminals utilize the pandemic time as the best opportunity to step up criminal activities by manipulating the vulnerability of employees. 
How to prevent cyber attacks and secure your healthcare business?
Healthcare companies and medical professionals are very busy dealing with life-or-death situations and do not have time to identify any cyber-attacks or take notice that IoT devices have been infected by malware. Following are cybersecurity guidelines recommended by the National Institute of Standards and Technology (NIST) for your healthcare business against cyber attacks. 
Restricting unauthorized access to your important data helps to reduce the chance of human mistakes, which is the top security threat. Your employees should only have access to the particular information and systems which they need to do their jobs.
Must check for the latest updates when buying or installing a new software system. Keep in mind that software development companies do not need to provide updates for unsupported products. 
Firewalls can safeguard cyber criminals and hackers and stop employees' access while browsing toxic sites. Install, update and manage firewalls on every computer system, smartphone, and network-connected device. If add some extra layers of firewall security will help to minimize the risks of cyber attacks. 
It is vital for your healthcare practice to protect your network infrastructure because there is a huge increase of cyber attacks such as DDoS (denial-of-services), ransomware, phishing emails, and unauthorized access.
Web filtering also called URL filtering that helps to detect and prevent spam from clogging employee inboxes. Monitoring users' web activity and stopping them from accessing websites with malignant content or sites. 
Cybersecurity Risk Assessments:
Perform regular security risk assessments on your network, technologies, software and applications, and your employees. After you detect the cyber risks, you need to install security patches, upgrade or install new software, and get the proper cybersecurity training.
Data Backup:
Take regular backups of your practice information and patient data allow you to quickly recover in case of any uncertain incidents. Managed cloud solutions and backup support will help your healthcare organization to retain its information if extortion occurs. 
Employees Training and Awareness:
Train your employees and hire security consultants to recognize phishing, scams, and types of cyber attacks. All employees must learn the significance of protecting the information they regularly handle to help reduce exposure to the business. 
Install Antivirus Software:
After the installation of the best antivirus software, evaluate the security settings on the software, browser, and email programs. Choose the security options that will fulfill your business security needs without increasing cyber risk.
Monitor Daily Operations:
Ensure employees are monitoring the phishing detection tools. It is important to prevent a cyberattack and to assure if a data breach occurs, the healthcare unit is aware as soon as possible.
Choose The Best Cybersecurity Services
Selecting the right cybersecurity provider is a challenging task because when you start searching, you'll see a long list of cybersecurity companies offering unique specialties. But the partner you select should clearly understand your business goals and provide excellent support. 
MedicalIT.Services is a leading IT security company in Sydney, providing cost-effective healthcare cybersecurity solutions to defend against cyber-attacks, secure medical IoT devices, and recover medical data. From advanced malware protection to secure networks, protect medical data and prevent vulnerabilities in medical devices – all are covered in our SLA (Service Level Agreement). Call us today to get specialized support for the cybersecurity of your medical devices and patients' data. 
Also Read: