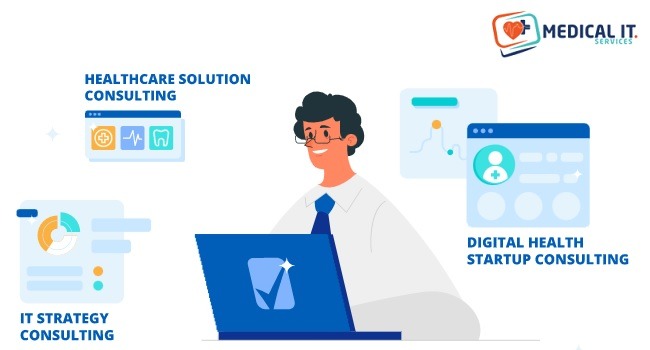 How IT Consulting Services Can Help Medical Practices To Cut Budgets?
Many industries have reduced costs and upgraded quality through funding in information technology, but still, the healthcare sector remains widely inefficient and expensive. Despite the regular adoption of technology, few medical practices can reduce their operational costs and achieve good margins with the help of IT Consulting Services that uses the latest technology to its absolute potential. The Australian Government is managing these challenges to ensure that patient care doesn't become unmanageably expensive. Some critics have suggested that Outsourced IT Department could ultimately reduce annual healthcare expenditures.
With the increasing cost of labor, demographic changes, and uncertainties in the climate, the right time for the healthcare sector has arrived to adopt information technology to lower costs without losing the quality of care. But the question is how to manage healthcare operational costs and why you need to hire IT Consulting Firm for accelerating healthcare innovation. Find out the new ways to reduce healthcare costs through the latest information technology solutions.
How Healthcare Providers Reduce Cost Using IT Consulting Services
Here are some effective and practical ways of reducing costs through using advanced information technology solutions providing by reliable IT consulting services company in Australia:
Space Saving and Increasing Effectiveness
Many hospitals have outsourced their IT needs which help to overcome their space significantly. An IT Support Provider can design effective strategies and processes for managing your medical data on the cloud system.
With the help of managed cloud solution, any doctor, nurse, or practice manager can easily access, share and manage EHR (Electronic Medical Records) Systems. This also helps to eliminate the additional computer hardware and frees up office space by reducing the need for dedicated servers and workstations.
Outsourcing Administrative Work
Many practices outsource traditional administrative duties such as billing collections, medical transcription, and customer service. Healthcare Practices outsource most of these duties because they don't have to bother about in-house training and managing many different tasks.
If you prefer to outsource a healthcare IT consultancy firm, make sure the company you decide must be well-equipped and insured against any liabilities regarding HIPAA and use the industry's most reliable practices.
Telemedicine Reducing Costs for All Parties
Telemedicine was a $25 billion market, in 2013 and it was supposed to grow 18% yearly through 2025. Telemedicine was one of the crucial advancements that supported patients in staying in touch with their doctors during the pandemic. This is how technology is utilized in healthcare.
IT Consulting Firm helps in decreasing healthcare costs in these significant ways:
It provides patients with flexible, quickly accessible clinical care.
It eliminates the costs for both healthcare providers and patients, as doctors can offer primary care and reduce needless appointments.
Patients don't have to bear transportation expenses.
Telemedicine is shown to be the dream for upcoming healthcare technology by advancing healthcare at a lower cost for everyone.
Identify At-risk Patients
When it is to at-risk patients, technology is necessary but not enough on its own. A better way is to consult with a competent Healthcare IT Consulting Company that can assist you in designing infrastructure, implementing security policies and procedures, overcoming medical errors, and strengthening the communication between patients and healthcare providers. AI-based cybersecurity solutions can help to solidify your network security.
Conclusion
Whether you own an in-house IT department or establish a new medical practice, contracting with reliable healthcare IT service provider is a great approach to reducing costs, offering better patient care, and encouraging innovation. IT consultants can give the healthcare industry much more efficient, cheaper, and faster treatment options with the right insights and data.
If you are still searching and want to protect your business information and patient records and prevent data loss and system failures, contact our IT support team to maintain a high-performance IT environment for your medical practice.
Also Read: