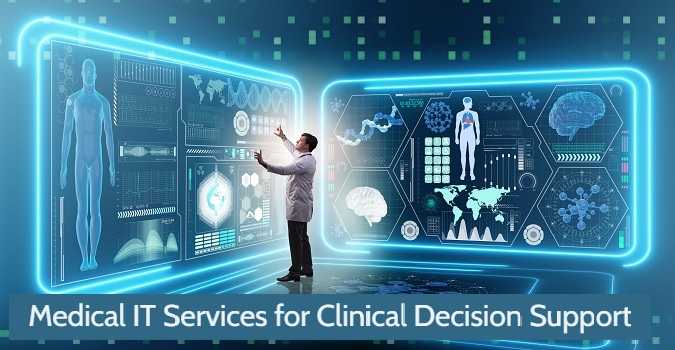 Leveraging Medical IT Services for Clinical Decision Support
As healthcare users, we want a lot from our care delivery. It's no wonder; medical knowledge is increasing quickly in Australia's healthcare industry. Each day, new evidence-based standards of care are included in what our clinical teams are expected to understand and have seamlessly available in their workflows. Learn more about clinical decision support systems (CDSS) including their benefits, risks, and strategies.
Understanding the Basics of Clinical Decision Support Systems
The role of Medical IT Services clinical decision support systems (CDSS) in the healthcare industry is decisive. It increases security in assisting to avoid blunders and adverse events, lower operational costs, improves practitioner and patient satisfaction, and, most importantly, boosts care quality and health outcomes. When CDSS applied efficiently, it not only decreases the burden on what healthcare providers in Sydney are expected to recall easily but can increase the entire process, including experiences and outcomes.
The latest and highly sophisticated capacities are being included in EHRs, increasing data access and usability – which means that healthcare systems can have better clinical IT services guidance technology than ever before. Innovation in artificial intelligence (AI) will continue to shape the healthcare industry in the future. Still, clinical decision support tools are not limited to a future standard. By leveraging a vast tool set in the electronic health record (EHR) – including analytics, machine learning, predictive models, and rules engines – alongside evidence-based content, medical organisations can increase their clinical decision support capabilities.
4 Problems CDSS Can Solve
The chance to include more seamless clinical IT services guidance exists across various day-to-day healthcare operations. Here are four fundamental problems that CDSS (Clinical Decision Support System) can efficiently address:
Decreasing alert fatigue
Most healthcare organisations in Australia don't know which alerts are being overridden the most by their team. By taking help from healthcare IT support, medical practices can Measure this activity with analytics, and using EHR to present data to clinicians appropriately to the level of urgency can combat alert fatigue. But on another side, where it's visible and hidden. That's essential for non-essential alerts, so the life-threatening alerts have a meaningful differentiator.
Increasing antimicrobial stewardship
CDSS can assist healthcare organisations in Australia in determining if a more affordable or less toxic antibiotic is available to a patient. The results can be viewed in the workflows for pharmacists and prescribers to recognise and intervene readily.
Providing medication clinical decision support
Medication protection is a top priority to prevent patients from harm. Medical IT Services CDSS can help healthcare organisations configure their EHR and alerts to prevent physicians or pharmacists from creating an adverse patient safety event.
Lowering surgical risk
The goal of medical practices in Australia is to run operations at peak efficiency, clinically and financially. Using Clinical Decision Support System within the EHR to integrate proof-based protocols can lead to rapid recovery, lessen challenges, and have smaller hospital stays.
How Can Healthcare Organisations Implement CDSS?
The procedure to analyze and include more Clinical Decision Support System (CDSS) capacities brings a systematic approach. The healthcare organisation should look at tools offered by healthcare IT services providers to include intelligence to workflows at the point of care: analytics, machine learning, predictive models, rules engines, and standardisation are the most beneficial to determine a useful CDSS strategy.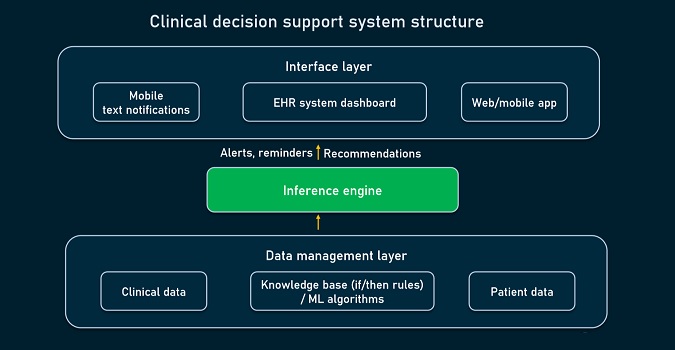 The CDSS makes a safer, more productive experience for healthcare organisations and, most significantly, a profitable outcome for the patient.
Continuing to include intelligence into clinical IT support workflows, whether to decrease the cognitive burden on clinical teams, increase efficiency, or any of the many advantages possible with CDSS, is an essential demonstration of how technology can better serve healthcare. The four challenges that are mentioned above – all these capabilities are available to provide improved patient care.
Take A Step to Leverage Clinical Decision Support
As cyberattacks grow in Australia, it is essential to adopt robust technologies to keep running a medical practice smoothly. Medical IT. Services provide state-of-the-art technology solutions that allow doctors, nurses, and hospital management to share data and streamline organisational processes. If you still need clarification on what to choose, get straight to Medical.IT Services, our experts are available 24/7 for your assistance.
Also Read: