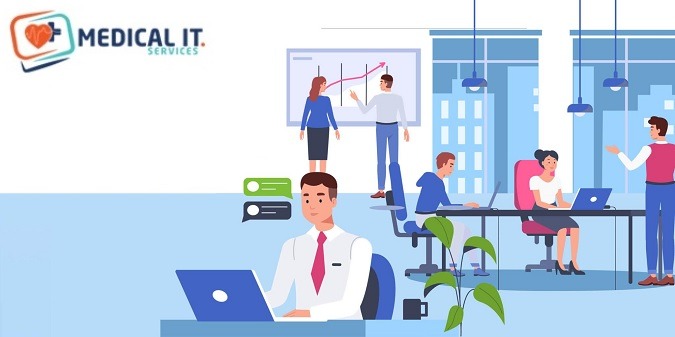 What things need to consider when outsourcing IT company for medical practice?
Today, Corona Virus is still a big thread among us. Hospitals and healthcare providers are busy handling Covid-19 patients. Due to these challenges, most healthcare organizations are outsourcing IT companies to manage their day-to-day operations. But find a reliable Medical IT Company that is experienced in working with the Australian healthcare sector is a big challenge.
The Australian Government is also helping the healthcare industry to implement the latest technologies to achieve the best patient outcomes and service delivery. In this blog, we are discussing what questions you need to ask before outsourcing an IT support company for your medical practice.
Business Experience and Reputation:
You can't compromise on quality when talking about the healthcare sector. If you want to partner with a trustworthy IT company, then you may need to learn how their IT solutions work for your business. You need to ask these questions:
How many years of expertise do you have?
Where are you located, and what type of services do you provide?
What are your core values and mission statement?
Can you provide updated client details for reference?
Where can I see your client's feedback?
If you are still have confusion, it is suggested to review one of their clients' first-hand experiences to get insight into them.
Employee's Knowledge and Abilities:
Before outsourcing a medical IT consultant, it is essential to take the initial interview and check their employees' awareness and abilities. Some core tasks can be tiresome and complex such as medical billing, online booking, and medical coding. The company's staff must be well trained because minor errors in the medical IT systems can cause rejections or any disaster. You can ask the following questions to your Outsourced IT Partner:
Who will deal with us if any IT-related problem occurs?
Is your IT engineer experienced in providing medical software support?
Can you share your employee's qualifications, experience, and skills?
How can your IT team provide off-site or remote-based IT support?
Cost of Their Services
Cost is a critical factor for any service. The services you want to avail of from an Outsourced IT Company will entirely depend on your allotted budget. It is essential to prefer a company that offers accurate value for their services and delivers data-driven results.
If you have decided to hire a Medical IT Company for your busy practice, then you need to choose an organization that can provide you with cost-effective IT solutions as per your business requirements. Get some quotes or proposals from leading IT outsourcing companies to get a better idea and it will be helpful for you to select a good one.
Protecting patient data and medical devices is the uppermost priority because it collects, store, and use large amounts of personal information including medical history, billing information, and other's details which are extremely sensitive.
Healthcare data security is more than just monitoring consent because data breaches are prevalent, especially in healthcare. Whether you are running an existing healthcare facility or starting a new medical practice in Australia, you must carefully decide that your outsourced IT company is equipped with the necessary tools and expertise in data backup, cybersecurity, software support, and document-sharing solutions.
Whether you are outsourcing the IT department on a full-time or on-call basis, you need to consider that your contractor provides advanced technology solutions. The latest digital technology such as telehealth, telemedicine, online pharmacies, and cloud computing is on the rise due to the COVID-19 pandemic. So, hiring any Professional IT Consultant for your practice can help you to keep updated with the latest trends as well as guide you that which technology solution can work best for your business.
A managed IT services company will always try to find new ways and adopt the latest techniques to improve their productivity and efficiency for better growth.
If you have finalized to an outsourced IT company, then you also need to consider that your partner has vast knowledge about the latest innovations in the healthcare industry. To ensure this, you can visit their office, talk to their IT support team, see their website or ask for a demo and learn how their innovative system can be helpful for your practice.
Final Words:
Outsourcing a Medical IT Company is a significant investment and many factors are involved such as time, resources, support, pricing, etc. So, it will be better for you to schedule a call and find the answers to the above-mentioned question before finalization.
We at MedicalIT.Services, recognized as the best IT outsourcing company in Australia, provides custom-tailored IT support with workforce solutions. Contact us now and talk with our IT consultant who will assist you with which technology solution can fulfill your practice requirements.
Also Read: